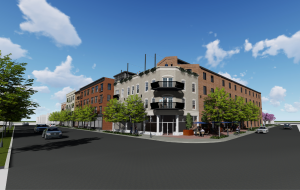 Since 2002, the Larkin Development Group (LDG) has been actively reimagining, rehabilitating and reconstructing the Larkin District, aka Larkinville, into a lively mixed use neighborhood with residential, office, manufacturing, retail and culinary focused businesses. In recent years, a dozen buildings and 2.0 million square feet of redevelopment has been completed, including the revitalization of the entire streetscape. There are now more people working in Larkinville than during the heyday of the historic Larkin Company.
A sample of the new retail and culinary businesses in the neighborhood include the Hydraulic Hearth Restaurant and Brewery, Flying Bison Brewing Company, Buffalo Distilling Company distillery and cocktail bar, The Filling Station restaurant, the Swan Street Diner and many more under development. Furthermore, our free events at Larkin Square have provided a fertile ground for entrepreneurs to start small businesses including dozens of Food Trucks.
A LOOK AHEAD:

The momentum continues in Larkinville.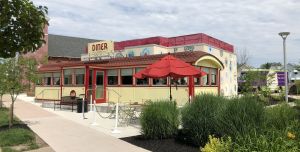 The Swan Street Diner  The Swan Street Diner, a 1937 fully restored Sterling Diner, rolled into Larkinville next to the Hydraulic Hearth in May,, 2017 and is open for breakfast and lunch every day from 11am-3pm

Live/ Work Buildings  Plans are underway for additional live/work spaces on Seneca Street near Smith Street with the construction of a series of buildings with retail on the first floor and residential on the second and third floors, targeting Fall 2019 occupancy.
111 Hydraulic Street This site is located to the east of Larkin Square. Plans are underway for the construction of an approximately 120,000 sq. ft retail, commercial, and residential building with a completion by Fall 2021.
Public Park Space  The green space across the street from 111 Hydraulic Street  will include recreational amenities such as tennis, basketball, volleyball and a running track available to be enjoyed by those who live, work, visit or attend school in the neighborhood by Fall of 2022.
Larkin Lanes  The development and return of the former neighborhood bowling alley at the corner of Seneca and Griffin Streets.  This long abandoned building will have a new chapter as a refurbished bowling alley and eatery with a fall 2021 completion date.
Larkin Men's Club This historic building, once a social hall for the Larkin Soap Company, located behind the fire station, will be redeveloped into commercial and residential space by fall 2021.
We are proud to call Larkinville home for our company headquarters. Many of our team members and employees of fellow Larkinville companies also live in the neighborhood. Entrepreneurs continue to open businesses here in a neighborhood that is both a national and local model for urban planning and redevelopment. We will be in the neighborhood for generations to come and it's going to be an exciting few years as Larkinville and the east side continue to grow.